Join our Email list!
Promotions, new products and sales directly to your inbox!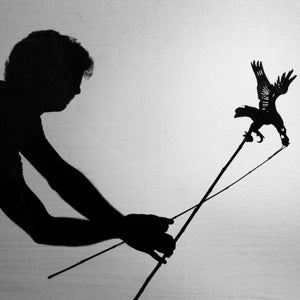 About Marcus Sampaio
Puppets have always fascinated me! Their expressive faces, life-like movements and magical construction entranced me since I was a little kid. All the great memories of attending marionette shows and playing with hand puppets — fostered by my parents during my childhood — led me to a side career as a puppet performer and later on as a theatre producer. I toured proudly around Brazil with my puppet company A RODA and my friends with wooden hearts carved by artist Olga Gomez.
Today I live in Canada and continue to cherish this passion as a collector of all sorts of puppets (e.g. hand, rod, string, shadow...), rediscovering antique and vintage treasures from all over the world.

Once Upon a Puppet is a place to revive this ancient fascinating tradition, share ideas about puppetry, meet new puppet enthusiasts and help bring some unique puppets to people that share the same love for them as I do. So if you are into puppets, welcome!